We recently sat down with the founder of Waterloo County Propane, Peter Rivers, for a fascinating conversation. As always, he enlightened and entertained us with his candor and enthusiasm. Since Core Fuels/Red Cap acquired Waterloo County Propane, Peter's influence has remained ever-present as we continue to grow and evolve. Here's what we learned during our discussion..
Peter began working as a mechanic for an equipment rental business at 165 Avenue Road in Cambridge in 1968. The only other employee left the company six months into Peter's tenure, leaving him to learn all aspects of the business. In the fall of 1971, the opportunity to purchase the business arose and Peter became the sole proprietor. As the rental business began to grow, Peter identified other market needs and established several ancillary businesses. Among them were a propane conversion business for school buses and a mechanic training program for Chrysler Canada. As it turned out, Peter wasn't fond of the "school environment" and the government ended subsidies for school bus conversions so he promptly left both businesses. During this time, Peter entered the residential propane, industrial supply and cylinder industries; once again responding to demand amongst his customer base. Business was great and it was growing.
Entering the '90s, Peter and about 35 of his employees were proudly serving the Waterloo area. However, large equipment rental outfits from the US started to open up shop north of the border pushing prices and margin down. Understanding this industry was becoming more work than it was worth, Peter sold his equipment rentals business, and eventually his industrial supply business, in 1996.
Ever the opportunist and entrepreneur, Peter then started Cedar Signs which supplies industrial signage. Together with his propane business, Peter migrated his operations to Clyde Road. The business continued to grow steadily for years. Sensing that the propane business was only going to get bigger, Peter started to engage in negotiations to sell the business in early 2019. In August of that year, a deal was finalized to sell Waterloo County Propane to Core Fuels/Red Cap. Peter continues to operate Cedar Signs at his Clyde Road farm to this day.
On a personal note, when asked what Peter does during his leisure time, he reflected:
"I was never a guy chasing money; I just like doing stuff..anything ..and so it's a bit of a curse, from one standpoint because if I have nothing to do, we have a problem. Most entrepreneurs, I think, are like this."
Peter likes to remain active. He's up early every day either working around the farm or around the business. He's passionate about hockey; playing as often as five times per week in the winter. Everything he does is fast-paced with the exception of fishing. He could fish all day long if he had to!
Clearly a man of many skills and interests, we had to ask Peter what he attributes his success to. He believes, strongly, that the biggest factor is his connection to his customers on a personal level. Peter explained:
"Everybody's on the phone trying to snag new customers, you know. Anybody can come up with a better number, for some period of time, until you get it back up. The customer has to have a reason to go.. 'Nah, I'll live with that extra penny per litre I'm paying, at the time, because we like the people we're dealing with'"
Peter recounted one Christmas day that he spent personally fixing someone's furnace. He routinely gives his business card with his personal number to customers. He often sends them hand-written notes to acknowledge the work they've done on their house or even to say hello and wish them well. It's clear Peter cares about his customers and about his work. His dedication and his compassion are clearly why he's done well. Cheers to Peter!
Our spotlight focuses, this month, on Pat Rowsell at our Cambridge office. As the beloved veteran of our staff, this year will mark Pat's 21st year with Waterloo County Propane. His domain is the propane dispensing depot where he fills and prepares propane cylinders for our delivery drivers, as well as assists customers with cylinder and auto propane. Anyone who's dealt with Pat can appreciate his charm, personality and positive attitude. When asked about his work, Pat smiled and mentioned how much he enjoys the exercise, the people, proximity to home and his depot office. "That's what I always liked about it!" expressed Pat.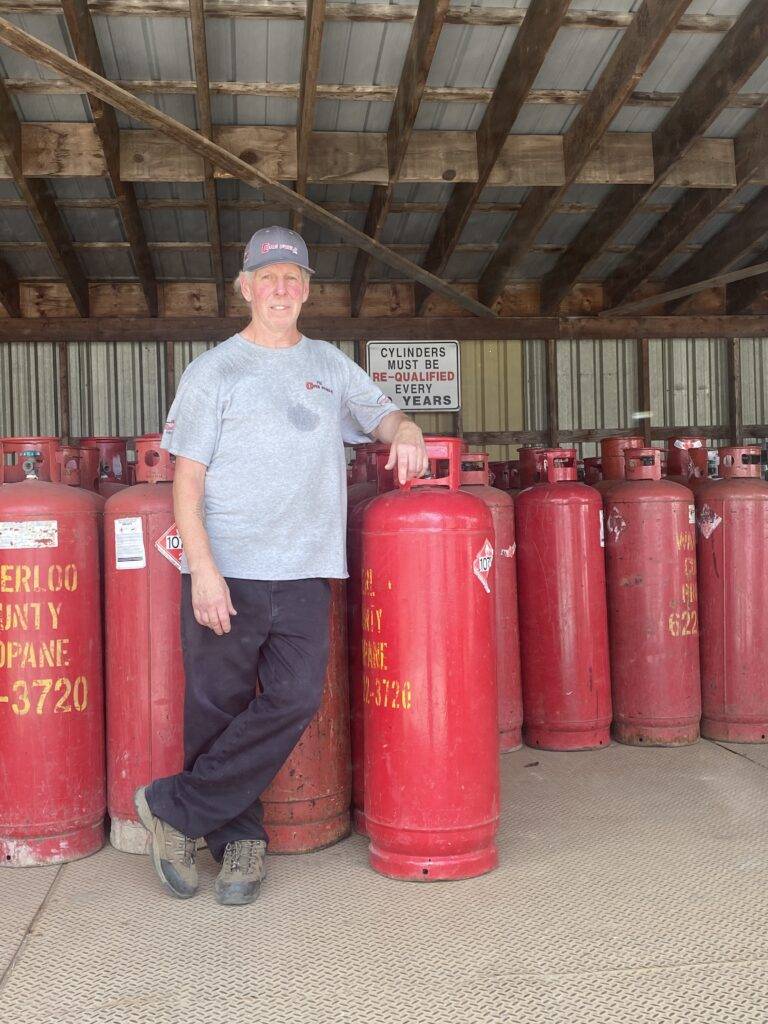 Although born in Toronto, Pat spent most of his childhood in Newfoundland. He laments the cold and windy winters out east, but loves to visit when the weather is suitable. He moved back when he was twenty and worked at a textile company and General Motors before landing at Waterloo County Propane.
Pat's passion is spending time outdoors with his spouse and son. He loves to fish and shoot some hoops with his boy. His family also enjoys trips to the beach – specifically Port Burwell. As a die-hard Leafs fan, Pat gets plenty of time outdoors after routine early departures from the playoffs! Go Leafs Go!
Yvonne has been with Core Fuels for eight years, working as an administrative assistant. Her tasks are numerous and diverse and include answering the phone, helping customers with issues that may arise, training new hires, looking after vehicle compliance and licensing, scheduling service technicians—virtually anything that keeps the Core Fuels ship sailing smoothly throughout the week. "I love solving problems at work—finding ways to make processes more efficient," she said. Prior to Core Fuels, Yvonne worked for a number of years as a receptionist at a distribution company.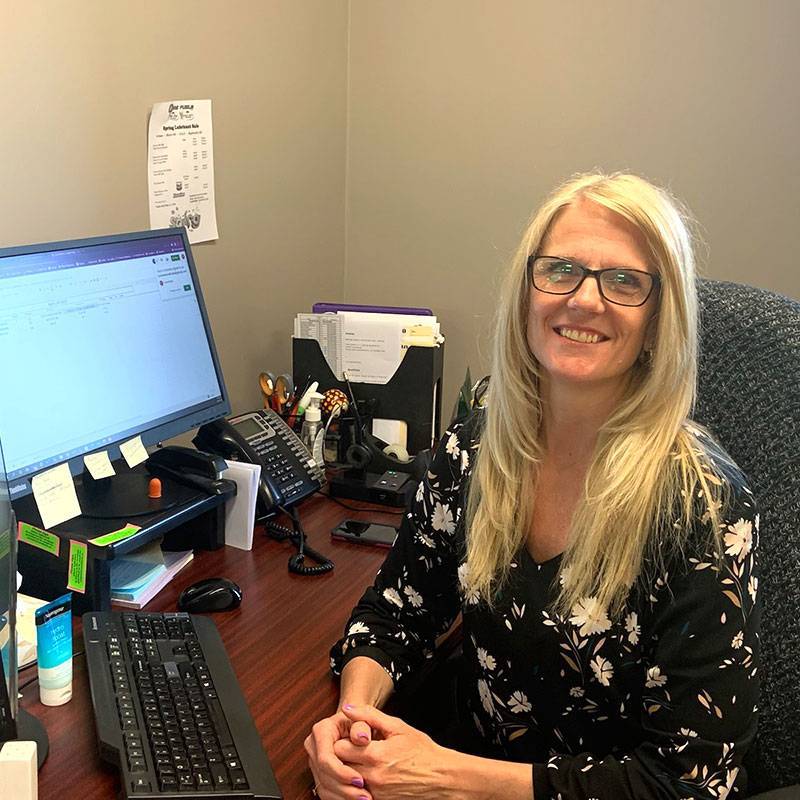 There are two key aspects of Yvonne's job that she's particularly fond of—her colleagues and Core Fuels' customers. Clearly, Yvonne is a people person. "My colleagues are hard workers who love to have fun. We get a lot done in the course of a day, but we do it with humour. This blending of hard work and smiles is what makes working at Core such a great experience. Our office is a comfortable place for me to be. Going to work is something I look forward to," noted Yvonne. "And as for our customers, well, they too are generally very pleasant whenever I speak with them, probably because they feel good about the service that Core provides. It's great when customers come into our office so I can put faces to names. This adds another dimension to my job."
Yvonne grew up on a farm outside of Stratford and has lived in the area her entire life. She can't imagine living anywhere else. In this regard, her feelings about her community are similar to those about her colleagues and customers. "What more could I want?" she says. "One of my favourite things to do is to work in my garden—and to relax in the back yard. I also love spending time with our adult children and walking and hiking with my husband and our two dogs. The dogs are great to go camping with as they thrive on adventure too. We're keen on trying out new campgrounds, especially those where there's lots of activities to keep us busy. I'm really looking forward to summer so we can do some exploring."
Paul Core's roots in the energy industry are deep, extending back to his grandfather, who, along with Paul's father and uncle, operated Peel Ice and Fuel in Brampton, which was in the coal business. Paul, along with his brother Lionel, started in the fuel business under the same company name, selling heating fuel and later taking over the coal business.
In 1972 Paul and Mary Lynn moved to Stratford, where they bought a farm and launched Core Petroleum, which distributed Texaco products such as heating oil, gasoline and diesel to consumers in the Stratford area.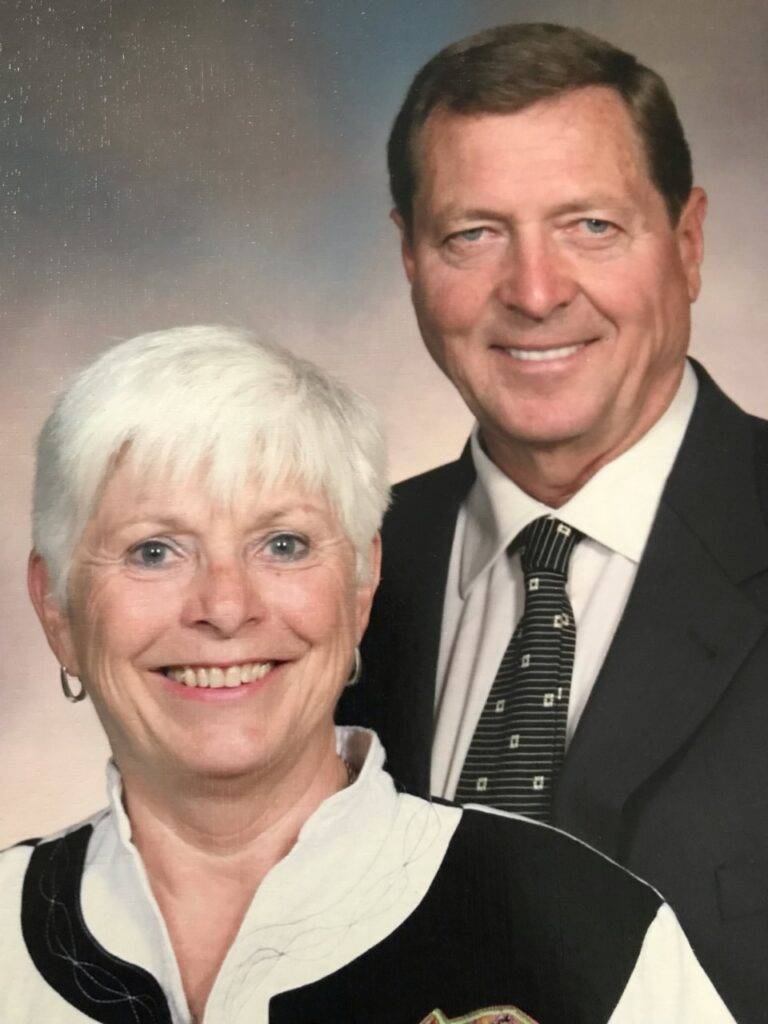 Paul and Mary Lynn operated Core Petroleum for 20 years before handing the reins to their sons James and Kevin, who in 1992 established Core Fuels, focusing on the distribution of gasoline, diesel and heating fuels. Just like their father before them, James and Kevin were naturals in the fuel business, having ridden around in fuel trucks since they were boys and been blessed with personalities that were ideal for a sales-oriented business.
Paul and Mary Lynn's business philosophy was a simple but highly effective one: Offer good service at a fair price. Fundamental to this, of course, is having a genuine affection for people and an awareness of their needs. Recognizing the value Paul places in connecting with people, Mary Lynn now sends him out to do all the errands to give him the contact with the community that makes his day.
Reflecting upon some of the struggles that all businesses go through, Paul and Mary Lynn look back to the energy crisis of 1979 caused by a drop in oil production in the wake of the Iranian Revolution. The crisis impacted supply chains and drove prices up dramatically, making it a stressful time to be in the fuel business. With goodwill developed over the years, however, Core Petroleum adapted to the circumstances, got through the crisis and thrived in the 1980s. As Mary Lynn notes, change is a constant in the fuel business. Today, watching their grandson Jeremy working at Core Fuels, Paul and Mary Lynn look back at their years in the fuel business with much satisfaction. They now have the time to do the things they love—spending time with family, travelling, curling and enjoying cottage life.
Continuing with our introduction of valued members of the Core Fuels family, this month we engage with Paul Muma, who now has three years under his belt with the company. Paul's history in the fuel industry, however, is a long one, dating back to the 1980s when he lived in Inuvik, Northwest Territories and worked for the now-defunct Pacific Western Airlines. Always keen for an adventure, Paul jumped at an opportunity to fly on a Hercules cargo plane to deliver furnace oil into the remote Yukon community of Old Crow, the northernmost non-Inuit community in North America. Paul admired the friendly and resilient folks of Old Crow and the experience eventually led him to a career in the fuel industry, primarily as a fuel truck driver and salesperson—roles that he now admirably fills for Core Fuels.
Though driving and selling are Paul's official responsibilities, his role is far more encompassing. "I'm a hands-on guy," says Paul. "When we're installing a new tank at a customer's place, I can't just stand there and watch our technicians do the work. I pick up the tools and jump right in. That's who I am!" Not surprisingly, our customers have quickly come to see him as a face of Core Fuels, and when they have questions on anything or need anything done they call him. "I can get calls from customers any day of the week almost any time of the day", notes Paul. "I don't mind at all", he says. "It's all about providing timely service for our customers, which I find highly rewarding. Even though I don't socialize with our customers, I've come to think of many of them as friends. Who isn't going to help a friend, no matter what the issue?"
Apart from serving our customers, Paul's other passion is heading up to cottage country where, four hours from his home, stands a special cottage built by his grandfather in the 1950s. "The cottage is my happy place", says Paul. "There's an endless number of things to do up at the cottage, be it fixing an old outboard or paddling the canoe out on the lake. I just love it up there."
At Core Fuels we're thrilled to have a people-person and hands-on guy like Paul serve as a face of our company for many of our wonderful customers. Having employees like Paul is one of the reasons we're so trusted in the communities we serve. We're hopeful that Paul can finish off his career in the fuel industry with Core Fuels—some time well down the line!
As we charge full steam ahead into 2022, the Core Fuels family wants to continue to show our appreciation for our talented and dedicated team members. Despite the ever-changing nature of the fuel industry, our team remains unwavering in their commitment to providing the best possible service to our customers.
This month, Core Fuels shines the spotlight on Chad Duchesne. In his eight years with Core Fuels, Chad has worn many hats — with his passion for service being at the forefront of each of them. "Contributing to a variety of facets of the business gave me some valuable experience in just about every area," Chad says. "This, in turn, instilled a greater appreciation for what Core Fuels does." Before starting at Core, however, Chad built barns for a living. Needless to say, he doesn't shy away from hard work! 
For the last two years, Chad has delivered fuel to Core Fuels customers as a truck driver. Should the needs of the business change, however, he is always glad to fill in wherever needed. Outside of work, Chad spends as much time as possible outdoors and his preferred athletic pursuits — hiking and biking — allow him to see a different side of the community he grew up in. Chad is more than happy to point interested parties toward the area's best hiking spots, though his favourite destination for hiking is the scenic Algonquin Park a few hours northeast of Stratford.
Chad played soccer growing up in Stratford and looks forward to giving back to the community as a coach — and getting back out on the pitch — when restrictions are lifted. In the meantime, Chad seizes every opportunity to be of service to the Stratford community in his position at Core Fuels. "Core is a very tight-knit family, and we treat all of our customers as though they are part of it. Big, small, new, or old: everyone gets the same opportunity to receive great service."
All of us at Core Fuels are proud to have Chad as a member of the team and appreciate both his adaptability and customer-first mindset. Here's to many more years, Chad!
As we inch toward the holidays, we are increasingly appreciative of all the hard work that our Core Fuels team members do. Each of our teams are committed to bringing the best quality fuel and service to our fellow community members, and their tireless effort will make this holiday season an especially warm one.
This month, our spotlight shines on Waterloo County Propane's Dave Krauss. A sales consultant for over 20 years with 16 of those years being here at Waterloo, Dave's commitment to providing optimal fuel solutions to Waterloo customers is unrelenting. Despite living in nearby Guelph, Dave serves the Cambridge community with pride and is an ardent supporter of the Argus House youth charity. 
Dave's career in fuel began when he took a job driving for Superior Fuels in his early 20's, and in the years since he has worn many hats. Dave's tenure at Waterloo began as a driver, though he also gained experience in the service department before ultimately moving into the office to assume a sales position. Learning multiple aspects of the business has benefitted Dave as a sales consultant, allowing him to carve out "a little bit of a niche" when it comes to serving customers.
When Waterloo County Propane joined the Core Fuels family in 2019, "there were some big changes," according to Dave, including the adoption of all new computer systems. "It took some time, but we're growing—and being able to fuel more members of the community is a great thing." Whether he's working in the office, delivering fuel solutions to customers on the road, or wearing any one of his other professional hats, Dave is an integral part of the Core Fuels family.
Outside of Waterloo County Propane, Dave continues to find ways to be of service. One such way sees him serve as a Propane Training Institute (PTI) instructor, a position he has held since 1991. Teaching seasoned fuel professionals and fresh faces alike, Dave leads 10 courses which focus on the safe transportation and handling of propane. Whether instructing fuel professionals on updated best practices and regulations or helping the next generation enter the workforce safely, Dave's propane expertise is a tremendous asset.
With over two decades under his belt and more to come, we feel fortunate to have Dave as part of the Core Fuels family. Thank you for all you do, Dave!
Powering Ontario for nearly 50 years, community is at the heart of every decision Core Fuels, Red Cap, and Waterloo County Propane make. The Core Fuels team is a community of its own, made up of service-minded individuals dedicated to providing quality fuels to residential, commercial, and agricultural customers. Core Fuels customers have likely gotten to know the Core team like family, and we want to take an opportunity to shine the spotlight on our talented team members.
This month, our spotlight shines on our General Manager: Kevin Core. Kevin's tenure can be traced back to the 1980's, though Kevin will tell you that fuel is "in his DNA." Growing up around the business, Kevin realized a guiding principle which remains with the company to this day: as long as Core Fuels, Red Cap and Waterloo County Propane continued to serve their customers and the community, the business would grow.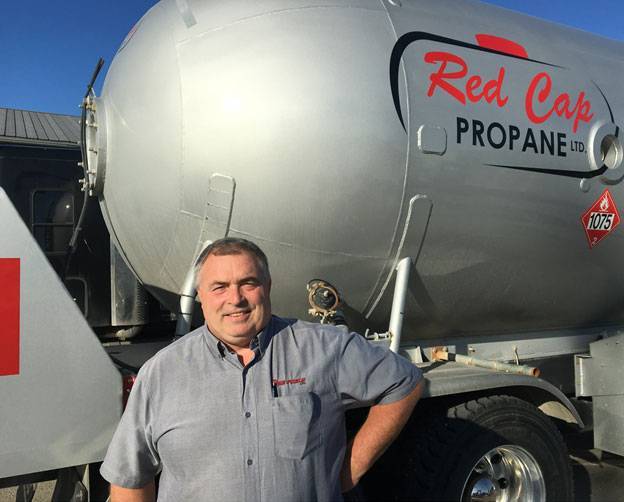 As Core Fuels has grown, Kevin has remained an active participant in every function of the business—from filling propane cylinders, to driving trucks, to filing paperwork, and just about everything in-between. Kevin, now a father of five, places high value on family. His father, Paul Core, has mentored both Kevin and brother James in the fuel business for over four decades. Kevin takes great pleasure in mentoring and teaching others about the fuel business as well, and this is evident in the family values and work ethic in the DNA of the Core Fuels, Red Cap, and Waterloo Propane team.
Despite the continued growth, the company continues to be driven by generosity and compassion. Donating to and supporting "just about every organization that needs our help," Kevin understands that "bringing energy and heat to our neighborhoods has made us a fabric of the community," and that community is about giving back. Outside of the family business, Kevin has coached a variety of youth sports teams in addition to being a member of the Downie Optimist Club: an organization dedicated to helping children achieve their full potential.
With Kevin at the helm, Core Fuels has continued to seek new ways to power the community—whether through expanding coverage to new territories, or by supporting local initiatives. We look forward to Core Fuels' future under Kevin's continued leadership.
Powering Ontario for nearly 50 years, community is at the heart of every decision Core Fuels makes. The Core Fuels team is a community of its own, made up of service-minded individuals dedicated to providing quality fuels to residential, commercial, and agricultural fuel and gas customers. Though many Core Fuels customers have likely gotten to know the Core team like family, we want to take an opportunity to shine the spotlight on our talented team members.
For this month's newsletter we'd like to shine a light on Laurie, our accounting expert. Laurie has been with Core Fuels for over 23 years, re-entering the workforce to join the team after raising her family. Laurie says that joining Core Fuels as early as she did was a great opportunity, as it has allowed her to understand–and be involved in–a number of different facets of the business.
Over nearly a quarter century of service, Laurie has witnessed Core Fuels grow and evolve without losing its defining ethos–commitment to serving the community. As Core has grown, so has Laurie's responsibility. From data-entry, to accounting, to payables and receivables, Laurie's self-described "natural love of numbers" paired with her business computer programming education and data-entry background has made her a great asset to the Core Fuels family.
When not at Core, Laurie enjoys spending every moment she can with her own family–her three children and seven grandchildren. Laurie is also an active member of her church, and community is something she values greatly. Laurie's commitment to her family, her community, and the team at Core Fuels is admirable, and we are beyond proud to count her as a member of the Core Fuels family. Here's to another 23 years!
Powering Ontario for nearly 50 years, community is at the heart of every decision the management at Core Fuels makes. The Core Fuels team is a community of its own, made up of service-minded individuals dedicated to providing quality fuels to residential, commercial, and agricultural fuel and gas customers. Though many Core Fuels customers have likely gotten to know the Core team like family, we want to take an opportunity to shine the spotlight on our talented team members.
This month, we are proud to introduce one of our newest team members: Frank Peters, sales representative. Entering his fifth month with Core Fuels, Frank is a seasoned sales and marketing professional with over eight years of experience–getting his start in recycling, eventually marketing and selling fertilizer, managing a composting plant, and finally landing here at Core Fuels.
Long before he was a member of the Core Fuels team, Core was helping fuel Frank's family farm, Riverbend Acres. The small farm is a passion of Frank's and has brought the Peters family closer together as they care for livestock like Black Angus cattle, Belgian horses, fainting goats, and a miniature donkey. The Peters family is proud to share Riverbend Acres with the public, hosting field trips, birthday parties, and providing an escape for those looking to experience a bit of farm life.
With experience on both sides of the sales process, Frank's deep empathy as a sales representative stems from his desire to meet customer needs as if they were his family's own. In his words, Frank's drive to "help people make the best decisions for their family, and the community" has made him an excellent addition to the Core Fuels team, and we look forward to the contributions Frank will continue to make to our community.
If you would like to talk to Frank directly, he can be reached at:
Frank Peters
Sales Representative
Call or Text: (519) 501-2074
Email: frank@corefuels.ca