The birds are chirping, the sun is shining, and the Jays are rolling – spring is in full bloom! As we dust off our patio sets and fire up our grills, we wait in eager anticipation for May to come around so that we can relinquish our pool covers and prepare our backyard oases for summertime. Here are some quick trouble-shooting tips from the folks at Core Fuels / Red Cap Propane to get your pool heaters up and running:
Igniting Your Heater
Ensure the breaker and heater are turned on and your thermostat is set appropriately.
Inspect the pump, filter, and venting. Clean out any debris.
Check that the gas supply valve is open and the pilot is lit (if not electric ignition).
Open the plumbing and filter valves to allow proper water flow.
Improving Water Flow
Keep the filter and pump strainer basket in good condition and clean.
Limit water features operating at once. Try alternating between the vacuum system and pool heater.
Ensure the pressure sensor/switch is not defective. Replace if necessary.
If using a variable speed pump, make sure you meet the minimum GPM flow for your heater.
Check that your pool water chemistry is accurately balanced and consistent.
Hire a technician to inspect the pressure sensor, high limit switch, thermal regulator and heat exchanger. Code stipulates that pool heaters shall be inspected on a yearly basis.
Generating Proper Heat From Pool Heater
Ensure the temperature sensor is installed properly and is in working condition.
Set your thermostat to a higher temperature.
Confirm that the pool heater is properly sized. An overworked and undersized pool heater will shut down from high limit switch activation. It won't be able to effectively heat the pool.
A reminder not to forget to call and arrange a delivery for your pool propane tank in the coming weeks. For more helpful propane and fuel tips, like and subscribe to our YouTube page or find us on social media!
Aided by a drop in demand, propane inventories have recouped throughout the month of April. In turn, the price of propane has dropped marginally and, aside from the carbon tax increase, appears to be about even with the price immediately prior to the invasion of Ukraine. Though the end of the month was chilly, expect May to warm up quickly and further alleviate demand. We hope to see the downward price trend continue, but time will tell.
After receding towards $100/barrel at the beginning of April, crude prices rose precipitously mid-month amid mounting NATO sanctions against Russia. Recent Covid-19 lockdowns in Shanghai and Beijing, along with speculation of increases to U.S. interest rates, have offset the increase in European demand and restabilized the prices. However, in response to the sanctions, Russia cut off gas supply to Poland and Bulgaria earlier this week. Expect more volatility to come.
Yvonne has been with Core Fuels for eight years, working as an administrative assistant. Her tasks are numerous and diverse and include answering the phone, helping customers with issues that may arise, training new hires, looking after vehicle compliance and licensing, scheduling service technicians—virtually anything that keeps the Core Fuels ship sailing smoothly throughout the week. "I love solving problems at work—finding ways to make processes more efficient," she said. Prior to Core Fuels, Yvonne worked for a number of years as a receptionist at a distribution company.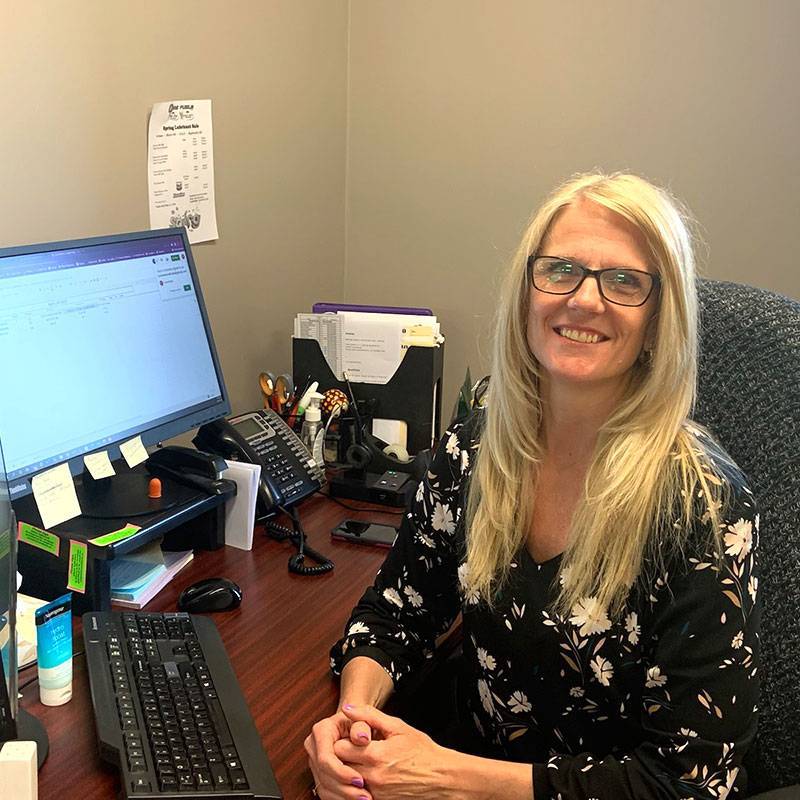 There are two key aspects of Yvonne's job that she's particularly fond of—her colleagues and Core Fuels' customers. Clearly, Yvonne is a people person. "My colleagues are hard workers who love to have fun. We get a lot done in the course of a day, but we do it with humour. This blending of hard work and smiles is what makes working at Core such a great experience. Our office is a comfortable place for me to be. Going to work is something I look forward to," noted Yvonne. "And as for our customers, well, they too are generally very pleasant whenever I speak with them, probably because they feel good about the service that Core provides. It's great when customers come into our office so I can put faces to names. This adds another dimension to my job."
Yvonne grew up on a farm outside of Stratford and has lived in the area her entire life. She can't imagine living anywhere else. In this regard, her feelings about her community are similar to those about her colleagues and customers. "What more could I want?" she says. "One of my favourite things to do is to work in my garden—and to relax in the back yard. I also love spending time with our adult children and walking and hiking with my husband and our two dogs. The dogs are great to go camping with as they thrive on adventure too. We're keen on trying out new campgrounds, especially those where there's lots of activities to keep us busy. I'm really looking forward to summer so we can do some exploring."
Overall, the price of propane has risen another couple of cents. At this time, North American supply is considerably lower than the five-year average. However, the shortages are predominantly in the Gulf Coast, so we are well-supplied regionally. The omicron variant appears to be shifting towards an endemic stage, hopefully alleviating some burdensome restrictions on the economy. This will continue to fuel an increasing product demand as industries, such as travel, prepare to resume business. Colder temperatures, of late, also contribute to high demand. Degree day totals are still below average, but will likely catch-up; as we expect cold weather to extend through the end of the month.
In related news, the State of Michigan has withdrawn one of its Line 5 lawsuits. This may be a bellwether for the ongoing legal disputes.
Regarding fuels, crude oil prices continue to rise and now sit about even with the pricing prior to omicron and the BC floods. Like propane, demand will continue to climb as the economy opens up.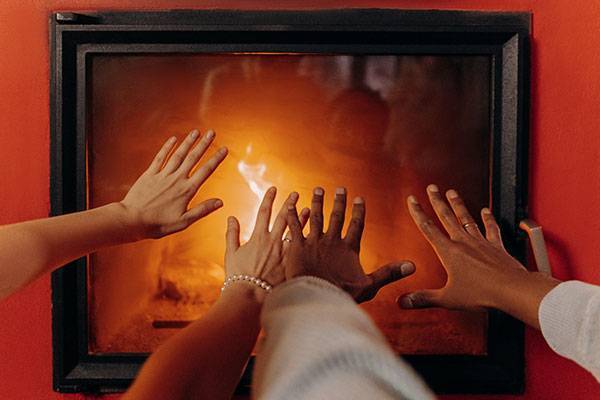 Well, well, well…Winter has finally reared its ugly head! Temperatures are plummeting and the cost of living seems to rise every day. Welcome to 2022! With that being said, the team at Core Fuels has put together these helpful tips on how to reduce heating costs to your home this winter:
Ensure windows and doors are properly shut, sealed and weather-stripped.

Windows (and doors) are opened periodically and can greatly affect the temperature in your home. Ensuring they are sealed and shut properly is crucial.
Try to plug drafty areas in your home.

Try different sealants where applicable for outlets and vents. Again, weather stripping works for doors and windows.
Routinely change furnace filters.
Block off unused rooms.

This will help keep heat in rooms where you and your household gather more frequently.
Dial back the thermostat at night and while away.

This will greatly save energy and as such save you money!
Limit wasteful hot water usage.

Water usage can account for a high percentage of your energy costs.
Service heating appliances regularly.

Poorly kept heating appliances can burn energy at higher rates. This will result in higher costs and lesser production.
Install a carbon dioxide detector.

Carbon dioxide is a biproduct of incomplete combustion and symptomatic of a poorly functioning appliance.
Limit exhaust fans in kitchen and bathrooms.
Ensure exhaust from fans and appliances are clear of debris, snow and ice.
Open sun-facing drapes and blinds. Close wind-facing drapes and blinds.

Sunlight is a great source of heat.
Use register diverters to reduce warm rooms and help cold areas.
Keep your families warm this winter while saving some money. For more information on how to reduce heating costs, give our team a call at our Stratford, Alma or Cambridge offices. Please like and subscribe to our pages on social media!
As we charge full steam ahead into 2022, the Core Fuels family wants to continue to show our appreciation for our talented and dedicated team members. Despite the ever-changing nature of the fuel industry, our team remains unwavering in their commitment to providing the best possible service to our customers.
This month, Core Fuels shines the spotlight on Chad Duchesne. In his eight years with Core Fuels, Chad has worn many hats — with his passion for service being at the forefront of each of them. "Contributing to a variety of facets of the business gave me some valuable experience in just about every area," Chad says. "This, in turn, instilled a greater appreciation for what Core Fuels does." Before starting at Core, however, Chad built barns for a living. Needless to say, he doesn't shy away from hard work! 
For the last two years, Chad has delivered fuel to Core Fuels customers as a truck driver. Should the needs of the business change, however, he is always glad to fill in wherever needed. Outside of work, Chad spends as much time as possible outdoors and his preferred athletic pursuits — hiking and biking — allow him to see a different side of the community he grew up in. Chad is more than happy to point interested parties toward the area's best hiking spots, though his favourite destination for hiking is the scenic Algonquin Park a few hours northeast of Stratford.
Chad played soccer growing up in Stratford and looks forward to giving back to the community as a coach — and getting back out on the pitch — when restrictions are lifted. In the meantime, Chad seizes every opportunity to be of service to the Stratford community in his position at Core Fuels. "Core is a very tight-knit family, and we treat all of our customers as though they are part of it. Big, small, new, or old: everyone gets the same opportunity to receive great service."
All of us at Core Fuels are proud to have Chad as a member of the team and appreciate both his adaptability and customer-first mindset. Here's to many more years, Chad!
Powering Ontario for nearly 50 years, community is at the heart of every decision the management at Core Fuels makes. The Core Fuels team is a community of its own, made up of service-minded individuals dedicated to providing quality fuels to residential, commercial, and agricultural fuel and gas customers. Though many Core Fuels customers have likely gotten to know the Core team like family, we want to take an opportunity to shine the spotlight on our talented team members.
This month, we are proud to introduce one of our newest team members: Frank Peters, sales representative. Entering his fifth month with Core Fuels, Frank is a seasoned sales and marketing professional with over eight years of experience–getting his start in recycling, eventually marketing and selling fertilizer, managing a composting plant, and finally landing here at Core Fuels.
Long before he was a member of the Core Fuels team, Core was helping fuel Frank's family farm, Riverbend Acres. The small farm is a passion of Frank's and has brought the Peters family closer together as they care for livestock like Black Angus cattle, Belgian horses, fainting goats, and a miniature donkey. The Peters family is proud to share Riverbend Acres with the public, hosting field trips, birthday parties, and providing an escape for those looking to experience a bit of farm life.
With experience on both sides of the sales process, Frank's deep empathy as a sales representative stems from his desire to meet customer needs as if they were his family's own. In his words, Frank's drive to "help people make the best decisions for their family, and the community" has made him an excellent addition to the Core Fuels team, and we look forward to the contributions Frank will continue to make to our community.
If you would like to talk to Frank directly, he can be reached at:
Frank Peters
Sales Representative
Call or Text: (519) 501-2074
Email: frank@corefuels.ca
North American oil prices are on the rise, mainly due to lower inventory levels and political pressures on the pipeline companies. US crude inventories are expected to drop to their lowest levels since February 2020. Propane prices have hit their highest levels since 2013, due to high demand for exported propane. While Canadian propane inventory is increasing daily and is higher than last year, US propane inventories are down from previous years. The weatherman is predicting a 60% chance of above average temperatures for the next 3 months, but who trusts the weatherman these days. At Core Red Cap and Waterloo County Propane we offer equal billing and yearly fixed pricing. Please call the office for more information.
Diesel fuel is the lifeblood of many Ontario businesses, and having a reliable supply of the fuel could mean the difference between making it big or taking a dive in today's competitive Canadian marketplace.
That's why it's important to choose a diesel fuel supplier that takes great pride in getting diesel deliveries to you when and where you need them, in any weather – a company like Core Fuels.
Whether you need diesel fuel deliveries for your construction company, farm, or factory, or to power generators for your hospital, school, nursing home, or critical care center, we know what it takes to keep you up and running.
Count on Core Fuels for:
High quality diesel fuel – Whether you need clear or coloured diesel for your commercial venture, Core Fuels has you covered with quality fuels for on-road and off-road use. All our diesel fuel is guaranteed to meet all federal and provincial quality standards, and we blend our fuels with high-quality additives so they perform well in the harshest Canadian weather.
The most reliable diesel deliveries in Ontario – At Core Fuels, we pride ourselves on our track record of thousands of on-site, on-time deliveries. While we may not be able to predict the weather, you can rest assured that our well maintained delivery fleet will be on the road driving through it, prepared to deliver fuel – and value – for your business.
Unequaled customer service – It might sound old-fashioned, but Core Fuels works hard to earn your trust as a problem-solving partner. Our superb and attentive customer service team will take care of you with every delivery, and our courteous, knowledgeable staff will take the stress and guesswork out of commercial diesel deliveries by making ordering easy and hassle-free.
For premium diesel fuel delivered to your job site or farm – with excellent service at a fair price – trust the pros at Core Fuels. Contact us today to learn more, or to become a Core Fuels customer.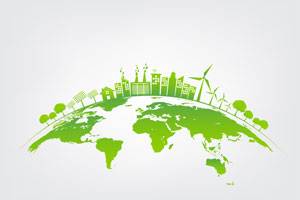 While steps like recycling bottles and replacing our SUVs with hybrids will help grow your green footprint, there are few things that will affect your impact on the planet more than changing the way you power your Ontario home.
If you're looking for a greener way to fuel your appliances without sacrificing comfort or performance, look no further than propane gas.
Propane gas: high efficiency, low emissions performance
Propane is one of the lightest, simplest hydrocarbons in the universe – and as a result, it is one of the cleanest-burning of all fossil fuels. It's so clean, in fact, that propane is not considered a greenhouse gas!
When you choose propane-powered appliances for your home, farm, or business, you will be:
Reducing emissions – Propane combustion produces less than half the greenhouse gas emissions of electricity to produce the same amount of energy. It also contains less carbon than other fossil fuels, including heating oil, gasoline, diesel, kerosene and ethanol.
Improving efficiency – Propane-powered appliances are usually more efficient – sometimes far more efficient – than electric models of similar size and output; a tankless propane water heater, for example, can save up to 50 percent on energy costs compared to a similar unit powered by electricity.
Reducing harmful impact – Propane is not toxic and does not spill, pool, or leave a residue, which makes it harmless to soil or water in the event of a tank leak. With propane, there are no risks for long-term damage to your home or property if a leak occurs.
The bottom line: If you're looking for an easy way to be a little kinder to the planet, choose propane – and if you need a reliable propane supplier anywhere in our Ontario service area, choose Core Fuels / Red Cap Propane.
Contact Core Fuels today to schedule your propane fill-up – or to learn more about becoming a Core Fuels customer.