Momentous Milestones in April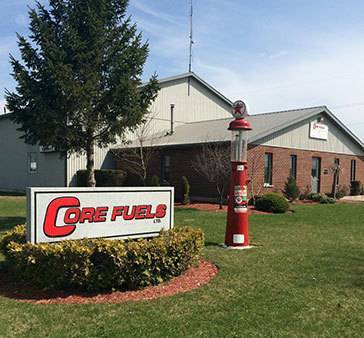 We, at Core Fuels and Red Cap Propane, will be celebrating some momentous milestones in April. As of April 20, the Core family will have been proudly serving Stratford and the surrounding area for 50 years! Not to be outdone, Red Cap Propane turns the page on its 18th year of operations on April 1. Congratulations to Steve, Scott, Kevin and James for your continued success – and a very special congratulations to Paul and Mary Lynn Core! Their spirit and humility very much define our organization to this day.
Looking back over the decades, it's important to recognize our history. As a young man, Paul Core relocated to Stratford from his hometown of Brampton to establish Core Petroleum Ltd. His wife, Mary Lynn, who still called Brampton home, took the train to Stratford every day to help Paul in the office. Eventually they bought a farm outside of Stratford where they raised their family.
They operated the business together for 20 years, until 1992, when their sons James and Kevin started Core Fuels Ltd. The brothers were able to build a larger shop at 219 Lorne Ave E, where our head office stands today. As the business grew, Scott Skinner and Steve Culliton were hired to manage operations and sales, respectively. Seeing an opportunity in the propane market, the four joined together to establish Red Cap Propane Ltd. in 2004.
As our territory continued to expand, we opened a second location in Alma in 2010 to better accommodate our customers north of Stratford. Later that year, we installed our second cardlock at 117 Huron St. in Embro, offering 24-hour gas and diesel service.
Over the following years, the company was able to expand the Stratford cardlock, adding natural gas (CNG), auto-propane and diesel exhaust fluid pumps. A third full-service cardlock was installed at 6976 Wellington Rd 7 in Alma. Additionally, a bulk loading facility in Stratford was built to better supply Core Fuels customers.
In 2019, Core Fuels and Red Cap Propane acquired Waterloo County Propane in Cambridge. Our shop and fill depot at 165 Avenue Rd. proudly offers customers cylinder and auto propane.
From a mom-and-pop fuel shop to a growing organization with over 50 employees, Core Fuels and Red Cap Propane have certainly come a long way. The Core family is very proud of the business that has been built over the last 50 years. It's with great respect to our history that we will continue our commitment to offering quality service and a fair price. Congratulations, again, to all of our dedicated staff. We're excited to see what the future holds at Core Fuels/Red Cap.