We recently sat down with the founder of Waterloo County Propane, Peter Rivers, for a fascinating conversation. As always, he enlightened and entertained us with his candor and enthusiasm. Since Core Fuels/Red Cap acquired Waterloo County Propane, Peter's influence has remained ever-present as we continue to grow and evolve. Here's what we learned during our discussion..
Peter began working as a mechanic for an equipment rental business at 165 Avenue Road in Cambridge in 1968. The only other employee left the company six months into Peter's tenure, leaving him to learn all aspects of the business. In the fall of 1971, the opportunity to purchase the business arose and Peter became the sole proprietor. As the rental business began to grow, Peter identified other market needs and established several ancillary businesses. Among them were a propane conversion business for school buses and a mechanic training program for Chrysler Canada. As it turned out, Peter wasn't fond of the "school environment" and the government ended subsidies for school bus conversions so he promptly left both businesses. During this time, Peter entered the residential propane, industrial supply and cylinder industries; once again responding to demand amongst his customer base. Business was great and it was growing.
Entering the '90s, Peter and about 35 of his employees were proudly serving the Waterloo area. However, large equipment rental outfits from the US started to open up shop north of the border pushing prices and margin down. Understanding this industry was becoming more work than it was worth, Peter sold his equipment rentals business, and eventually his industrial supply business, in 1996.
Ever the opportunist and entrepreneur, Peter then started Cedar Signs which supplies industrial signage. Together with his propane business, Peter migrated his operations to Clyde Road. The business continued to grow steadily for years. Sensing that the propane business was only going to get bigger, Peter started to engage in negotiations to sell the business in early 2019. In August of that year, a deal was finalized to sell Waterloo County Propane to Core Fuels/Red Cap. Peter continues to operate Cedar Signs at his Clyde Road farm to this day.
On a personal note, when asked what Peter does during his leisure time, he reflected:
"I was never a guy chasing money; I just like doing stuff..anything ..and so it's a bit of a curse, from one standpoint because if I have nothing to do, we have a problem. Most entrepreneurs, I think, are like this."
Peter likes to remain active. He's up early every day either working around the farm or around the business. He's passionate about hockey; playing as often as five times per week in the winter. Everything he does is fast-paced with the exception of fishing. He could fish all day long if he had to!
Clearly a man of many skills and interests, we had to ask Peter what he attributes his success to. He believes, strongly, that the biggest factor is his connection to his customers on a personal level. Peter explained:
"Everybody's on the phone trying to snag new customers, you know. Anybody can come up with a better number, for some period of time, until you get it back up. The customer has to have a reason to go.. 'Nah, I'll live with that extra penny per litre I'm paying, at the time, because we like the people we're dealing with'"
Peter recounted one Christmas day that he spent personally fixing someone's furnace. He routinely gives his business card with his personal number to customers. He often sends them hand-written notes to acknowledge the work they've done on their house or even to say hello and wish them well. It's clear Peter cares about his customers and about his work. His dedication and his compassion are clearly why he's done well. Cheers to Peter!
We have seen the price of Crude Oil retreat throughout July and into early August. It seems that North America is well supplied, but the uncertainty in Europe is keeping pressure on the price. OPEC+ is meeting in early August. The expectation is that they continue to pump oil at present levels or increase production slightly. Diesel prices have continued to fall from highs earlier this year. Refiners have increased production to respond to shortages. However, this came at the expense of gasoline production which has resulted in an increase to gas prices. Ongoing volatility is expected into the fall.
Propane inventories have been building throughout the summer but still remain below the 5 year average for this time of year. Expanded export options continue to impact the inventory levels and prices, in turn. However, somewhat surprisingly, prices have gradually dropped recently. It's tough to determine if this will continue or not.
We've experienced a slight drop in propane prices throughout the spring as demand has cooled off. However, inventories remain well below the five year average. This is likely to mitigate any downward price movement, into the fall, if the gap isn't reduced. Our brand new bulk loading facility in Stratford is projected to be operational this summer. This should ensure we are well supplied into the heating months.
Distillates and gasoline (to a lesser extent) prices have been extremely volatile throughout the spring. This surely correlated with low inventories and speculation on the geo-political climate. We saw prices reach all-time highs in May and have since retreated more than 20 cents. Demand will remain high through the summer driving months. Though, we hope to see prices cool off into the fall.
New regulations were announced by the government this week which will increase the ethanol content in gasoline. We are awaiting more details and will update accordingly. The provincial government has implemented a six-month gas tax holiday beginning on July 1. All road tax will be reduced to $0.09/litre.
Our spotlight focuses, this month, on Pat Rowsell at our Cambridge office. As the beloved veteran of our staff, this year will mark Pat's 21st year with Waterloo County Propane. His domain is the propane dispensing depot where he fills and prepares propane cylinders for our delivery drivers, as well as assists customers with cylinder and auto propane. Anyone who's dealt with Pat can appreciate his charm, personality and positive attitude. When asked about his work, Pat smiled and mentioned how much he enjoys the exercise, the people, proximity to home and his depot office. "That's what I always liked about it!" expressed Pat.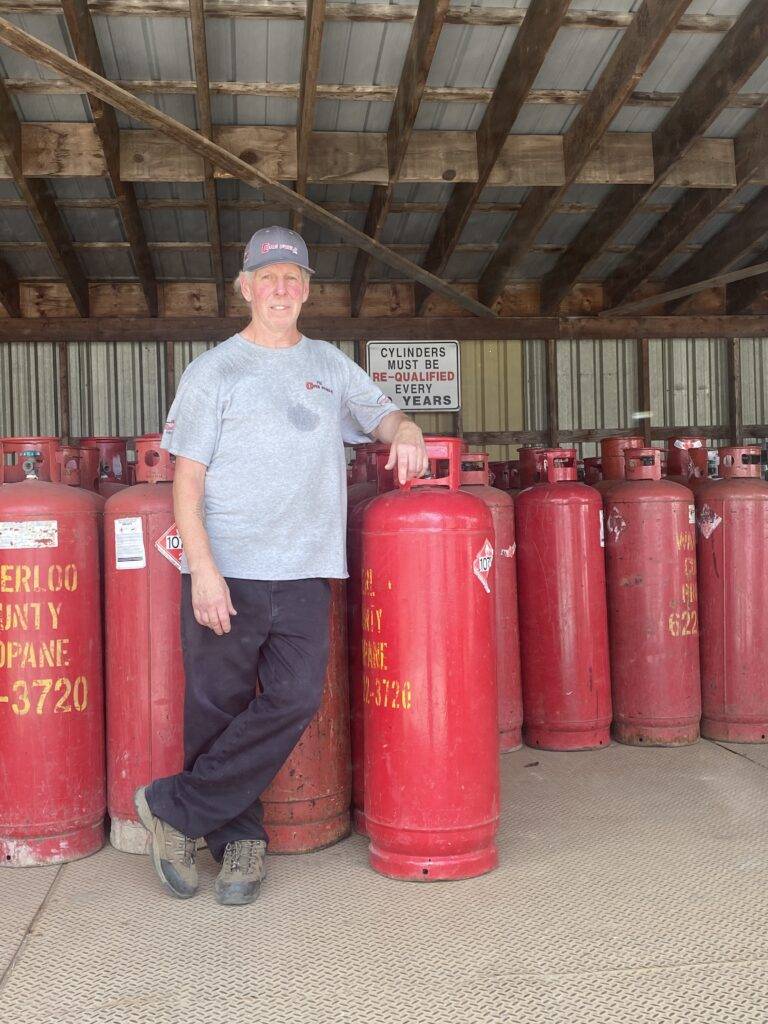 Although born in Toronto, Pat spent most of his childhood in Newfoundland. He laments the cold and windy winters out east, but loves to visit when the weather is suitable. He moved back when he was twenty and worked at a textile company and General Motors before landing at Waterloo County Propane.
Pat's passion is spending time outdoors with his spouse and son. He loves to fish and shoot some hoops with his boy. His family also enjoys trips to the beach – specifically Port Burwell. As a die-hard Leafs fan, Pat gets plenty of time outdoors after routine early departures from the playoffs! Go Leafs Go!
The team at Core Fuels is all geared up for summer. Thankfully, lockdowns have subsided and we're excited for the return of
many events we've enjoyed in years past. Looking for a fun day with the family or an afternoon of golf with some colleagues?
Check out our schedule below for some summer fun in your community. You'll be sure to see us out there in full force!
83rd Embro Highland Games
July 1, 2022
St. Marys Homecoming 2022
July 1, 2022 – July 3, 2022
Go For The Green Golf Tournament in Sponsorship of the Kidney Foundation
July 21, 2022
Embro Truck and Tractor Pull
July 29, 2022 – July 30, 2022
Stratford on Avon Shrine Club 9th Annual Golf Classic
August 6, 2022
Downie Optimist St. Pauls Steak Stag
August 11, 2022
168th Mitchell Fall Fair
September 2, 2022 – September 4, 2022
Canada's Outdoor Farm Show
September 13, 2022 – September 15, 2022
Community Living Stratford and Area 17th Annual Charity Golf Classic
September 19, 2022
Embro & Zorra Agricultural Society Fair
TBD
For more event details, please message info@corefuels.ca or follow us on social media!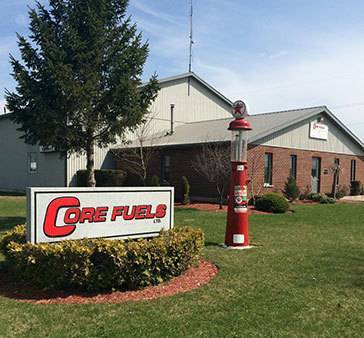 We, at Core Fuels and Red Cap Propane, will be celebrating some momentous milestones in April. As of April 20, the Core family will have been proudly serving Stratford and the surrounding area for 50 years! Not to be outdone, Red Cap Propane turns the page on its 18th year of operations on April 1. Congratulations to Steve, Scott, Kevin and James for your continued success – and a very special congratulations to Paul and Mary Lynn Core! Their spirit and humility very much define our organization to this day.
Looking back over the decades, it's important to recognize our history. As a young man, Paul Core relocated to Stratford from his hometown of Brampton to establish Core Petroleum Ltd. His wife, Mary Lynn, who still called Brampton home, took the train to Stratford every day to help Paul in the office. Eventually they bought a farm outside of Stratford where they raised their family.
They operated the business together for 20 years, until 1992, when their sons James and Kevin started Core Fuels Ltd. The brothers were able to build a larger shop at 219 Lorne Ave E, where our head office stands today. As the business grew, Scott Skinner and Steve Culliton were hired to manage operations and sales, respectively. Seeing an opportunity in the propane market, the four joined together to establish Red Cap Propane Ltd. in 2004.
As our territory continued to expand, we opened a second location in Alma in 2010 to better accommodate our customers north of Stratford. Later that year, we installed our second cardlock at 117 Huron St. in Embro, offering 24-hour gas and diesel service.
Over the following years, the company was able to expand the Stratford cardlock, adding natural gas (CNG), auto-propane and diesel exhaust fluid pumps. A third full-service cardlock was installed at 6976 Wellington Rd 7 in Alma. Additionally, a bulk loading facility in Stratford was built to better supply Core Fuels customers.
In 2019, Core Fuels and Red Cap Propane acquired Waterloo County Propane in Cambridge. Our shop and fill depot at 165 Avenue Rd. proudly offers customers cylinder and auto propane.
From a mom-and-pop fuel shop to a growing organization with over 50 employees, Core Fuels and Red Cap Propane have certainly come a long way. The Core family is very proud of the business that has been built over the last 50 years. It's with great respect to our history that we will continue our commitment to offering quality service and a fair price. Congratulations, again, to all of our dedicated staff. We're excited to see what the future holds at Core Fuels/Red Cap.
Paul Core's roots in the energy industry are deep, extending back to his grandfather, who, along with Paul's father and uncle, operated Peel Ice and Fuel in Brampton, which was in the coal business. Paul, along with his brother Lionel, started in the fuel business under the same company name, selling heating fuel and later taking over the coal business.
In 1972 Paul and Mary Lynn moved to Stratford, where they bought a farm and launched Core Petroleum, which distributed Texaco products such as heating oil, gasoline and diesel to consumers in the Stratford area.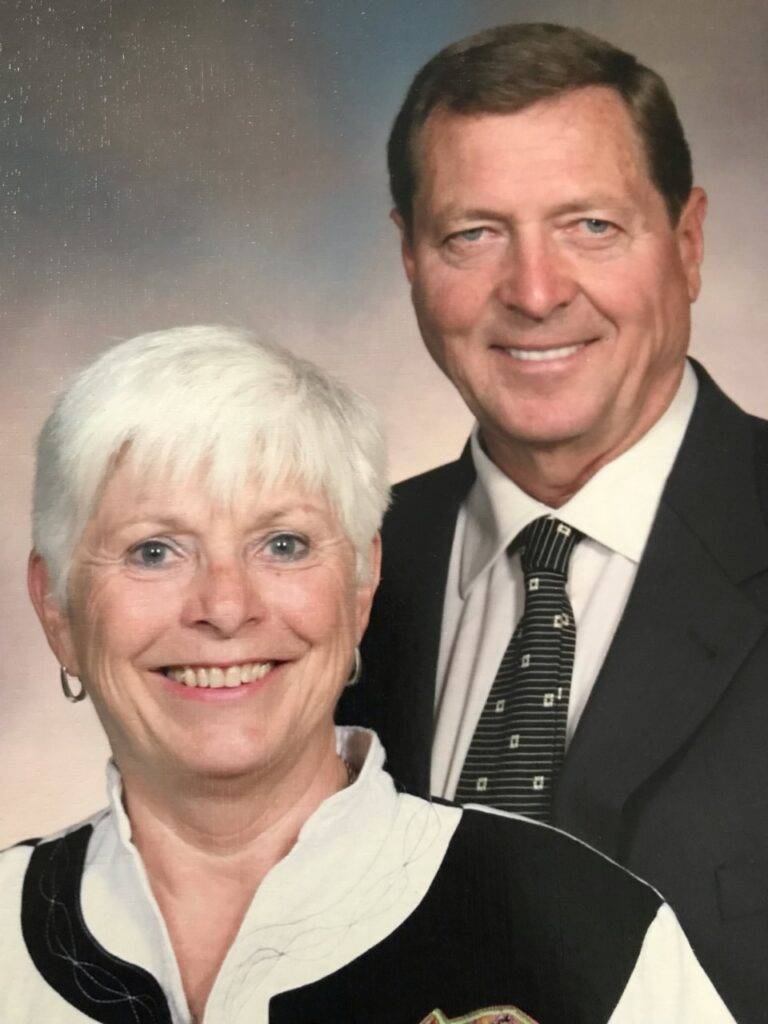 Paul and Mary Lynn operated Core Petroleum for 20 years before handing the reins to their sons James and Kevin, who in 1992 established Core Fuels, focusing on the distribution of gasoline, diesel and heating fuels. Just like their father before them, James and Kevin were naturals in the fuel business, having ridden around in fuel trucks since they were boys and been blessed with personalities that were ideal for a sales-oriented business.
Paul and Mary Lynn's business philosophy was a simple but highly effective one: Offer good service at a fair price. Fundamental to this, of course, is having a genuine affection for people and an awareness of their needs. Recognizing the value Paul places in connecting with people, Mary Lynn now sends him out to do all the errands to give him the contact with the community that makes his day.
Reflecting upon some of the struggles that all businesses go through, Paul and Mary Lynn look back to the energy crisis of 1979 caused by a drop in oil production in the wake of the Iranian Revolution. The crisis impacted supply chains and drove prices up dramatically, making it a stressful time to be in the fuel business. With goodwill developed over the years, however, Core Petroleum adapted to the circumstances, got through the crisis and thrived in the 1980s. As Mary Lynn notes, change is a constant in the fuel business. Today, watching their grandson Jeremy working at Core Fuels, Paul and Mary Lynn look back at their years in the fuel business with much satisfaction. They now have the time to do the things they love—spending time with family, travelling, curling and enjoying cottage life.
Fickle propane prices continue into the spring, as we haven't experienced any relief – which would be typical for the time of year. Inventory hasn't quite rebounded and remains at a five-year low. However, It looks like there's enough propane in the system to get us well into spring. Degree days continued to resurge in March and we can expect cooler temperatures into the early parts of April. Sadly, furnaces will have to stay on for the time being. Reduced demand in the coming weeks may help quell high prices towards the mean. Since the last update, fuel prices have endured the sharpest increase in decades. Sanctions and uncertainty around the war in Europe have drastically impacted the global market. Crude prices peaked in the second week of March. The increases retreated for a week, but then continued to climb into last week. The markets have cooled over the past weekend and we've seen a price decline heading into April. Where the prices go from here is anybody's guess.
We focus our attention, this month, on front-line health care workers throughout Southwestern Ontario. As we turn the page on the second full year of the Covid-19 pandemic, it's important to recognize the courage and dedication of so many who worked endlessly to protect our communities from this devastating virus.
To all of those who've sacrificed their own safety and well-being during this crisis, we are eternally grateful. The team at Core Fuels thanks you and will forever owe a debt of gratitude.
Community stewardship is a fundamental company value at Core Fuels. We are very proud of our commitment to giving back whenever and however able. To honour our brave healthcare workers, Core Fuels has made contributions to The Hospital Activity Book For Children over the last few years.
In partnership with Make-A-Wish Canada, SickKids, and the Stollery Children's Hospital Foundation, The Hospital Activity Book For Children has been donating books for over 25 years to keep children occupied during very difficult times. It's an incredible cause that we're very happy to help. For more information or to get involved, visit: https://www.habfc.com/.
Continuing with our introduction of valued members of the Core Fuels family, this month we engage with Paul Muma, who now has three years under his belt with the company. Paul's history in the fuel industry, however, is a long one, dating back to the 1980s when he lived in Inuvik, Northwest Territories and worked for the now-defunct Pacific Western Airlines. Always keen for an adventure, Paul jumped at an opportunity to fly on a Hercules cargo plane to deliver furnace oil into the remote Yukon community of Old Crow, the northernmost non-Inuit community in North America. Paul admired the friendly and resilient folks of Old Crow and the experience eventually led him to a career in the fuel industry, primarily as a fuel truck driver and salesperson—roles that he now admirably fills for Core Fuels.
Though driving and selling are Paul's official responsibilities, his role is far more encompassing. "I'm a hands-on guy," says Paul. "When we're installing a new tank at a customer's place, I can't just stand there and watch our technicians do the work. I pick up the tools and jump right in. That's who I am!" Not surprisingly, our customers have quickly come to see him as a face of Core Fuels, and when they have questions on anything or need anything done they call him. "I can get calls from customers any day of the week almost any time of the day", notes Paul. "I don't mind at all", he says. "It's all about providing timely service for our customers, which I find highly rewarding. Even though I don't socialize with our customers, I've come to think of many of them as friends. Who isn't going to help a friend, no matter what the issue?"
Apart from serving our customers, Paul's other passion is heading up to cottage country where, four hours from his home, stands a special cottage built by his grandfather in the 1950s. "The cottage is my happy place", says Paul. "There's an endless number of things to do up at the cottage, be it fixing an old outboard or paddling the canoe out on the lake. I just love it up there."
At Core Fuels we're thrilled to have a people-person and hands-on guy like Paul serve as a face of our company for many of our wonderful customers. Having employees like Paul is one of the reasons we're so trusted in the communities we serve. We're hopeful that Paul can finish off his career in the fuel industry with Core Fuels—some time well down the line!