Five Key Benefits of Propane for Your Ontario Home, Business or Farm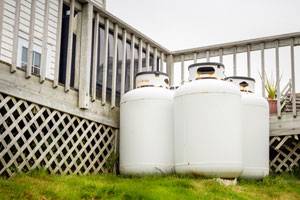 Propane is one of the most versatile fuels around today. In fact, millions of people around the world use propane for everything from heating their homes and domestic water to powering indoor and outdoor appliances. Commercial users put propane to work for everything from fleet fueling to agricultural tasks.
Why make propane your fuel of choice for your home, business, or farm? Here are five key propane benefits:
It's efficient: You could cut your energy costs by as much as half by switching from electric to propane appliances.
It's eco-friendly: Propane gives off less than half of the greenhouse gases that coal-fired electricity does. In fact, propane is one of the cleanest burning of all fossil fuels.
It's non-toxic: Propane is not harmful to soil or water if it's accidentally released and, with a chemical odorant added to help detect leaks, it can be safely tracked and stored. (You can read more about propane safety here).
It's made locally: Because propane is a by-product of petroleum refining, it is readily available here in Canada — in fact, almost all the propane used domestically is produced right here at home.
It works: Homeowners enjoy the comfort, convenience and cost savings that propane provides when powering everything from high-performance appliances to space heaters, fireplaces and generators; farmers and businesses love propane's efficiency and ability to heat spaces big and small quickly with little effort.
Core Energy offers reliable, affordable propane delivery throughout our Ontario service area, with experienced drivers trained to deliver the fuel safely and efficiently. We even offer payment plans to make your propane even more affordable.
To find out if propane is right for you, contact our expert sales team today! For everything you need in home heating, trust the pros at Core Fuels – keeping Ontario homes warm for more than 45 years!